One of the places that we recommend to visit in Santa Rosa de Calamuchita is the waterfall. It is an easy hike which could take anything from 50 minutes to an hour. There are two hiking routes which are clearly marked. Both of them lead to the waterfall but vary in difficulty.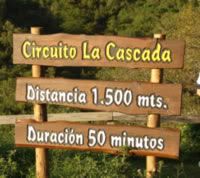 This hike can be enjoyed by the whole family and we have had people here at the Hostel who took a 2 year old with them. Obviously the hike will take longer and you will have to carry the little one in some places.
There are seats available right in front of the waterfall to enjoy the view. Trees provide nice shade and this hike can also be enjoyed on a hot day.
The waterfall does not have a lot of water during winter and a low rain season. But it is never completely dry and you will still be able to enjoy the hike. My favourite time of the year to hike there is during the summer months when everything is green!
Entrance to the waterfall can be a little tricky. You will find a sign (Restaurante Águila) in Ruta 5 close to the Petrobras station. Right at the top of the road is a restaurant where you can park your car or bicycle. Climb through the fence (It is fenced off for the cows) and start your walk. Entrance is normally free but during the high season an entrance fee of 2 pesos are charged.
En medio de las Sierras Grandes frente a Santa Rosa de Calamuchita podemos disfrutar de un salto de agua de una arroyo en medio de la Quebrada.
Para acceder a ella debemos ir por la Ruta nº 5 y pasar unos 100 mts la estación de servicios Petrobras (en sentido norte - sur) y a mano izquierda veremos un cartel que indica Restaurant "El Águila".
Tomamos ese camino y a unos 1000 mts encontraremos un playón de estacionamiento. Desde allí comienza el recorrido a píe de unos 50 min. aprox.
Hostel Tinktinkie en Santa Rosa de Calamuchita